Be a real Genius
Only bookings made through our website have exclusive benefits:
Best rate guarantee
Most flexible cancellation policies
Free coffee
Room Upgrade (if available)
Check-in at 2pm instead of 3pm
Check-out at 1pm instead of 11am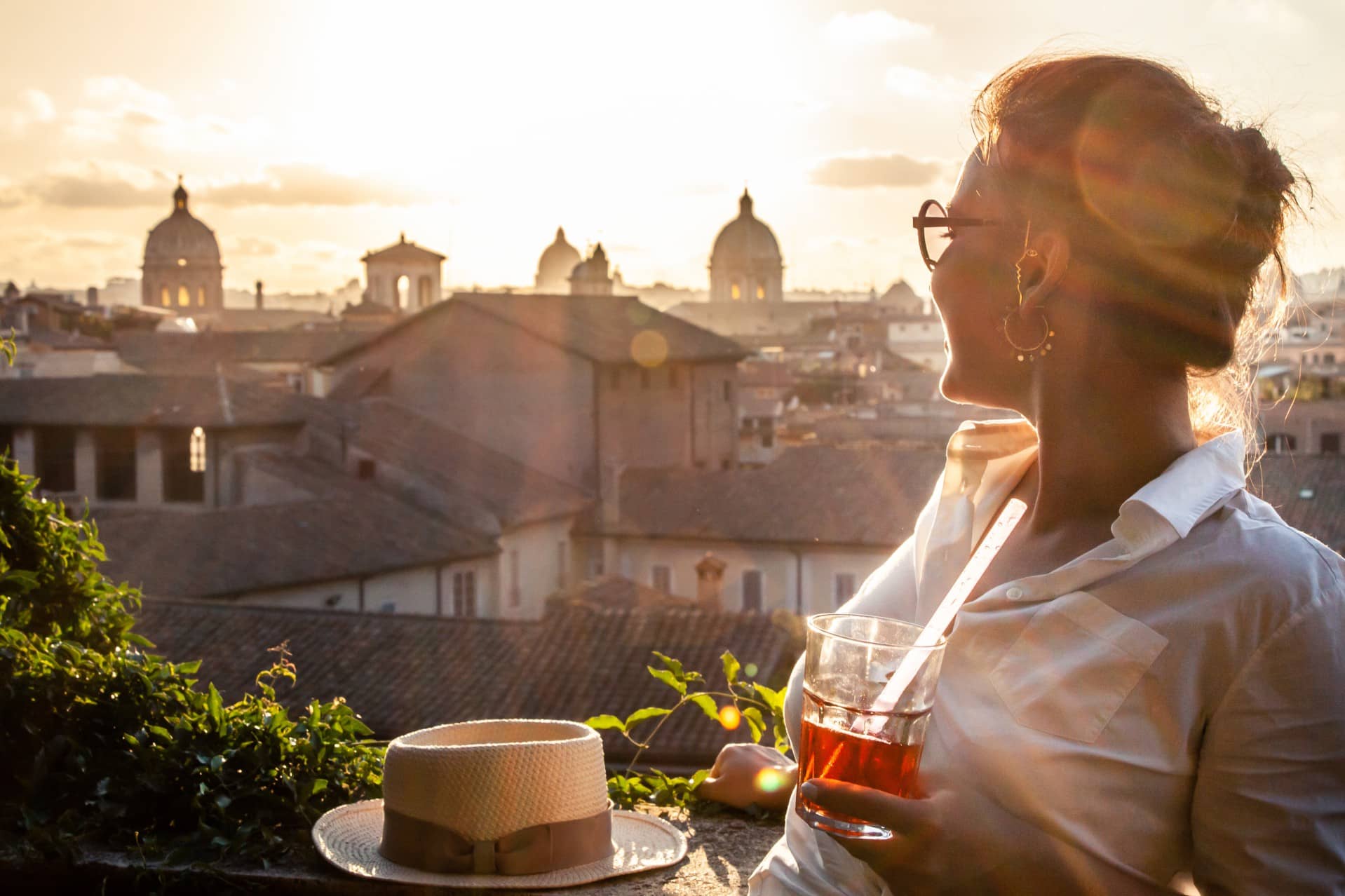 Hotel Giolli Nazionale
Cocktail Bars
Aperitif and breathtaking view
If during the day Rome is a historical pearl to visit, in the evening it turns into a very lively city, full of nightlife. Discover our advice on the best places to enjoy an excellent aperitif with a view and the most beautiful corners from which to admire a romantic sunset.
Hi-Res
Large and elegant restaurant with refined meat and fish dishes, overlooking the city from a panoramic terrace.
Raphael
From the purely vegetarian menu, Raphael is an incredible place to dine or just enjoy a
cocktail.
Eitch Borromini
It boasts the best view of Rome and is perfect for a drink in the evening at sunset. There is also a restaurant on the second floor overlooking Piazza Navona.
The Court
Cocktail bar in front of the Colosseum serving drinks of the highest quality. With an incredible view, it is ideal for posting great photos on your Instagram wall.
Zuma
Known throughout the world, it is characterized by a lively atmosphere, especially on weekends. Ideal for enjoying oriental fusion food, accompanied by fantastic cocktails.
Valentyne
Precious woods and velvets with an underground touch are the setting for a cuisine that aims to rediscover the great classics of French and American cuisine in combination with cocktails prepared to perfection by master mixologists.
Club Derrier
​​"Speakeasy" style, it is located next to the Maccheroni restaurant in Piazza Coppelle, where the local nightlife is concentrated on the weekend. Here you can enjoy an excellent dinner with cocktails in pure Roman style.
Jerry Thomas
Another Speakeasy-style venue with exclusive access, although small, it is very popular and boasts some of the best cocktails in town.
Black Market Hall
Just 5 minutes from Hotel Giolli Nazionale and in the heart of Rione Monti, it serves bruschetta, hamburgers and excellent vegan dishes in a truly elegant location.
La Zanzara
Great cocktail bar near Vatican City. It is ideal for enjoying a good refreshing drink after visiting the Vatican Museums.
The Barber Shop
On the surface it looks like a barber's shop, but the internal stairs lead to what is a real cocktail bar. A hidden corner with high quality drinks.
Chorus Café
Refined restaurant with soft lighting in the area near the Vatican. Excellent location, often used as a location for private events.
Belvedere di Via Monte Tarpeo
Via Nazionale, 69 - 00184 Roma - Italia
Via Nazionale, 69 00184 Roma - Italia
VAT 01114491002
© 2023 Hotel Giolli Nazionale