Be a real Genius
Only bookings made through our website have exclusive benefits:
Best rate guarantee
Most flexible cancellation policies
Free coffee
Room Upgrade (if available)
Check-in at 2pm instead of 3pm
Check-out at 1pm instead of 11am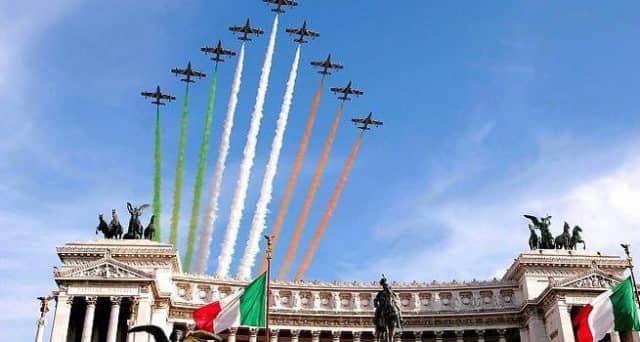 Hotel Giolli Nazionale
Republic Day
Every year on June 2nd. Book your room now!
The Italian Republic Day is an Italian national celebratory day established to commemorate the birth of the Italian Republic. It is celebrated every year on June 2, the date of the institutional referendum of 1946, as well as the anniversary of the death of Giuseppe Garibaldi, with the main celebration taking place in Rome. The Italian Republic Day is one of the Italian patri symbols.
The ceremonial of the event organized in Rome includes the deposition of a laurel wreath in homage to the Unknown Soldier at the Altare della Patria by the President of the Italian Republic and a military parade along Via dei Fori Imperiali.
Indirizzo: Piazza Venezia, Roma, Italy
GPS: 41.895766,12.482574
Take advantage of the event to discover Rome!
Stay at the Hotel Giolli Nazionale
Discover all the events in Rome
Via Nazionale, 69 - 00184 Roma - Italia
Via Nazionale, 69 00184 Roma - Italia
VAT 01114491002
© 2023 Hotel Giolli Nazionale